FIREWORKS
20th October 1930 - 20 Oct 1930






Making Firework
http://www.viewimages.com/Search.aspx?mid=3433168&epmid=1&partner=Google
www.fireworkmuseum.co.uk/

http://www.instructables.com/id/How-to-Make-Fireworks/

http://www.pyroguide.com/index.php/Main_Page

EXPLOTED FIRECRACKERS, 2 BIG SKYROCKETS W BALOON, PYROEFFECTS (THE MOST BAUTIFUL RED FIRE)


TYPEWRITER
Royal No. 10 # X-1019026 (USA, 1926)
Hammond Folding Multiplex
#F244370G2 (USA, 1923) -- 3 bank type-shuttle machine, keyboard folds up
all found
here
Underwood Standard Portable Typewriter
#82370 (USA, 1923) -- three-bank frontstroke
XYLOPHONE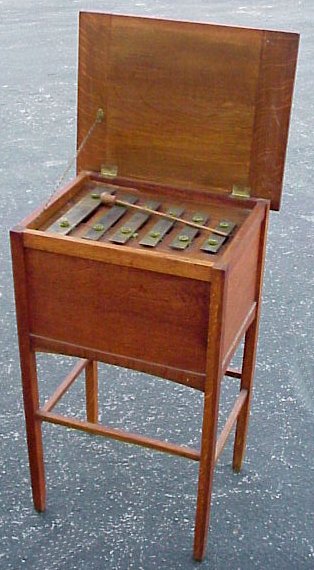 . CRAFTS XYLOPHONE/DINNER GONG? 1929
The following picture is a Deagan Artist's Special #264 Four Octave Xylophone, which we completely overhauled. Now that it is back to mint condition, It's hard to believe this instrument was built around 1930 and is more than 70 years old!
www.coepercussion.com/services.htm
Walt Disney Xylophone and Box.
This Mickey Mouse and Friends Xylophone is 12" long and made of tin.
The graphics and color are excellent on both sides of the xylophone.
Still present are the two wooden sticks and the songbook.
The box has no holes or tears but some crayon on Donald.
Condition 9. 1930
AQUARIUM/ SNAKE SOLARIUM
/
(3) In the lower picture Denise Dawkins, a teacher at Phoebe Hearst Elementary in Northwest, sits next to a large, art deco fish tank, a gift at the school's 1932 dedication.
Hmmm. but it need to be possible to move it.. This is probably too big



TELEPHONE













3574, OLD PHONE LAMP BASE c.1920 ...
574 x 800 - 196k - jpg
www.dargate.com




I think them being such a waky family would have a vaky phone

CANDYJAR/ ASHTRAY
Vintage Japan Ceramic Skull on Book Candle Holder. Creepy! Wouldn't this go great with a glass of wine, a nice candle and a good Edgar Allan Poe or Stephen King book! :) Marked Japan on spine of book. This hollow ceramic candle holder has a matte finish with great detailing, only the teeth have a glaze. 2-1/2" tall x 2-1/2" wide. Condition: Excellent.
I like ths. It does say plaster of Paris though.. It might be one of these anatomically correct casts where the toplid can be removed. (candy brain is better than ash brain)
Though one of theese skulls is a little too much teatregoofey for me... Nah. Dont like that.
PRINTING PRESS
From 1925 BB&S catalog
The Vandercook Rigid Bed Roller Series Proof Press is "The Speed Press of the Vandercook Line." This family includes presses with three bed sizes, with and without an inking carriage that was separate from the impression cylinder. The 20 has a 10" bed; the 15 and 21 have 12" beds; and the 16 has a 14" bed. All are 24" long. The 15 and 16 are hand-inked. The 20 and 21 have the inking carriage. These presses were "pushers"— no crank. No grippers. Rubber blanket.
Vandercook No. 14 Proof Press 8/8/28 #3828 - 3/21/60 #19,078
See 1-14-2 Family.
No. 14 1935From 1934 Vandercook and 1935 ATF catalogs
Bed: 14" × 26" (1934)
Maximum sheet: 14" × 28" (1935)
Maximum form: 14" × 24" (1934), 13" × 24" (1935)
Floor space including handle: 30" × 49" (1934)
Floor space: 2' × 4'2" (1935)
Shipping weight: 525 lb (cabinet 40 lb)
Price (1934): $195 (cabinet $25)
No grippers. Hand inked. Comes with stand but cabinet is optional. Tindeck blanket. Optional register device.
http://www.tokencoins.com/book/moffatkb.jpg
PILE OF SCRIPTS

LETTERS (FOR PRINTIN)
WHITE TABLECLOTH
MATCHES
SNAKES

New York state is home to 17 species of snakes. The most widespread and frequently encountered snakes in New York state are the garter snake and the water snake.
Garter: These snakes, like many other species, are variable in color and pattern; the basic color is dark brown or green with three yellowish stripes down their sides and back. They may reach lengths of two feet, but are typically smaller. They are completely harmless to people.
Water: found in and around almost any waterbody or wetland in the state. As an adult, it is a stout animal typically dark brown to black with lighter-colored bands and splotches along its length. This is most pronounced in young individuals (adults may appear solid black). It is the only large (up to 42 inches) water snake in our range...water snake is certainly an aggressive species with a nasty disposition.
The largest species in New York is the black rat snake, reaching lengths of eight feet! These largely black-colored snakes are found primarily along cliffs and rocky slopes but are absent from most of the Adirondacks. It is an impressive animal that overpowers its bird and small mammal prey by constriction.


milk snake false belief that it will milk cows! It is, however, frequently encountered in barns in search of its rodent prey (it also eats other snakes). The milk snake is a boldly patterned serpent (brown or reddish blotches on a light grey to tan body) that vibrates its tail when annoyed. The milk snake is harmless.
Other kinds that occur all across New York in appropriate habitat are the green, redbelly, brown, and ringneck snakes; all four of these are small, slender, and completely benign species that feed on insects, spiders, earthworms and slugs. Each is described quite well by their common names.
from snakes in new york

BOTTLE W FLIES
TROTSKY -GOD IS THE STATE
STAMP ALBUM
MAGNIFYING GLASS
BIG UNFRAMED (BAD?)PAINTING OF DISCUSTHROWER
RUSSIAN STAMP/ LETTER
COLORED TARGET (SCHWARTZ)
BLANCET/ COVER (GAY)
PAPER & PENCILS
CIRCULAR/ PRINTS
NEWSPAPER (20 JUNE 1936)
HAT BOXES
SHEET OF PAPERS (HENDERSON)
OPENER
SMALL METAL CONTAINER W UN POWDER
ERECTOR SET
STEEL ERECTORSET MODEL OF BOAT (QUEEN MARY)
LARGE CARDBOARD BOX

PALETTE
PAINTS & BRUSHES
EASLE
SMALL PLATFORM
DISCUS

SAUCER OF MILK

CANDY

TOMATOES
BEER BOTTLES,
GIN
FOODS: CUCUMBERS, EGGS, CUCUMBER

BLINTZERS
(+ ASESSORIES)
PAPERBAG
STEAMING PLATTER
BREAD
GLASS OF WATER

WATERMELLON (+ PATTER)
TRAY
CREAMER
CORNFLAKES

GLASSES
GINGER ALE

COFFE CUPS

PLATES
PLATE OF CANDY
COACH

CARD TABLE
DRESSER

BIG TAB LE
CHAIRS

DOOR/ STAIRS (ENTRANCE & EXITS):
BASEMENT
1 FLOOR
FOYER
KITCHEN


COSTUMES REFERRED TO:

WATCH (ALICE)
APRON
(COST)

PANAMA HAT
(COST)
NEGLICHE (COST)
PENNYS BATHROBE (COST)
ARTIST SCHMOCK
"ROMAN COSTUME"
BALLET COSTUME (WHITE SATIN BODICE / GARLAND OF ROSES)

BALLET SLIPPERS
DON: LONG WHITE NIHTGOWN & SHORT BATHROBE
BLACK AND WHITE TAM O SCHALTER